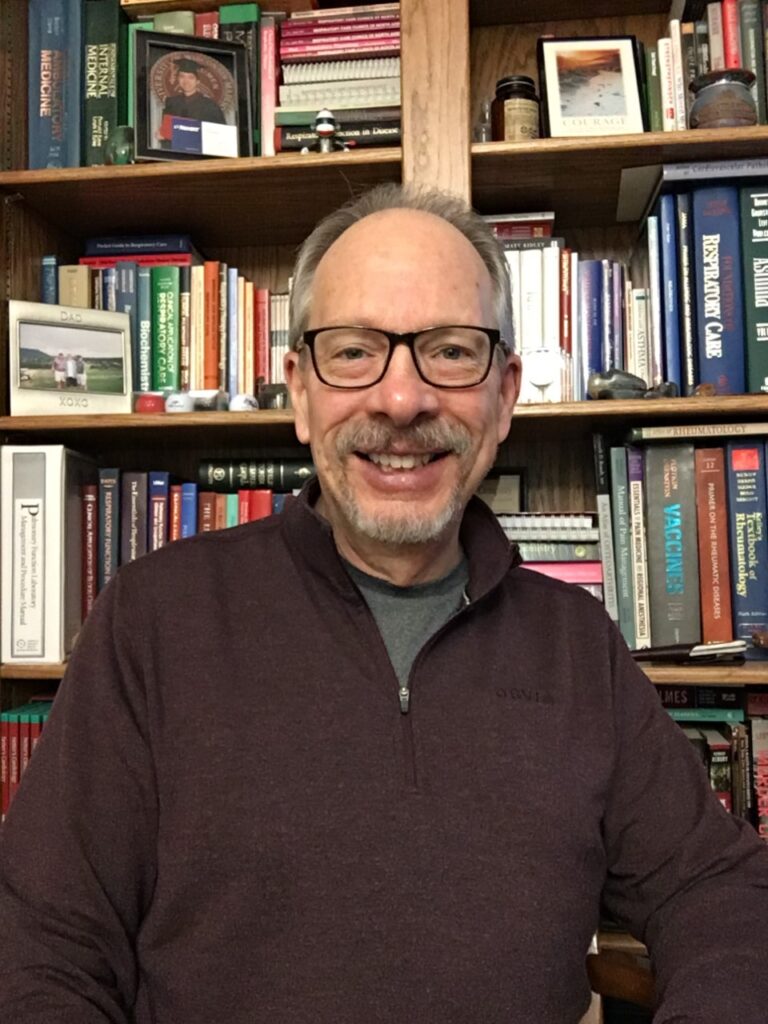 Who is Bob Brown?
Beginnings and Education:
I was born and raised on the south side of Chicago (104th and Vincennes) and a southwest suburb (103rd and Cicero). I attended Moraine Valley Community College (A.A.) and transitioned to, and graduated from, Illinois State University (B.S. Biology; Chemistry minor).
Professional Careers:
I began my Respiratory Care career at Northwestern Memorial Hospital (NMH) in June 1976, by working in the Blood Gas Laboratories (Medical Director, Barry Shapiro, MD; Respiratory Therapy Director, John Walton). After completing an accelerated Registered Respiratory Therapy program, through Northwestern University Medical School (Program Director, Bob Kacmarek), I became Supervisor of Respiratory Care, Central Blood Gas Laboratory, at NMH in June 1979. I also taught part-time in the Respiratory Therapy programs and the Medical Technologist program at Northwestern University.
My wife and I moved to Madison, WI in September of 1980, where I began employment at the University of WI Hospitals and Clinics (UWHC); primarily performing specialized Respiratory Studies (e.g., Exercise, Sleep, etc.), along with providing general and critical patient care support. I soon transitioned into the UWHC Pulmonary Function Laboratory (Director/Mentor, Richard Beauchamp) and continued teaching Respiratory Therapy students (part-time), via the Madison Area Technical College. In September 1985, I became Director, Pulmonary Diagnostic Services and Assistant Director, Respiratory Care Services, at UWHC. I continued in that role until January 1997. During that time period I had the opportunity of serving in member and leadership capacities, with the American Association of Respiratory Care (primarily Chair-Elect [1992 through 1993] and Chair Diagnostics Specialty Section [1994 through 1995]; Cardiopulmonary Diagnostics Clinical Practice Guidelines Focus Group [1990 through 1999]; Diagnostics Specialty Practitioner of the Year 1990; Fellow 2001), the National Board for Respiratory Care (primarily CPFT and RPFT Examination Committees; member Board of Trustees 1995 through 1999) and the American Thoracic Society (primarily Pulmonary Function Laboratory Management and Procedure Manual; 1st Edition). Additionally, I taught in numerous CME/CEU events across the country, as well as published in peer-reviewed media; 1 book (co-author, "Spirometry Quality: The Essentials"), 5 chapters, 33 articles (primary or co-author) and 5 original research abstracts (also defended in scientific sessions). 
I left academia in January, 1997, to join Merck & Co, Inc., in what is now entitled the Medical Affairs Division. While at Merck, I had the pleasure of working primarily as a Medical Scientific Liaison in the following four divisions: Respiratory (including 3 years in Management); Arthritis and Analgesia; Cardiovascular and Metabolic Diseases; Vaccinology, Immunology and Infectious Diseases. I retired, from Merck, on April 01, 2016, as Associate Director Medical and Scientific Strategies.
My careers have provided me with rare opportunities to work closely with some of the brightest and most respected researchers, clinicians and leaders in their respective fields, for which I am extremely grateful. Life is, and continues to be, very, very good.
Cheers,
Bob
Robert A. Brown, BS, RRT, RPFT, FAARC